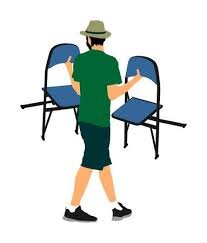 Description
Price is for us to setup/takedown of each chair. Otherwise we will stack them neatly when we deliver. You will need to unfold and set them up and return to a stack when your rental is completed for our pickup.
We offer this service so our customers can save money to setup/takedown themselves. Otherwise-- if we setup for every event our items would be more expensive.
Pricing is per chair. We will unfold and place for you around tables or in rows (in a reasonable fashion-- does not include measuring between chairs and perfect placement... you may need a little fine tuning if you are particular... thanks for your understanding). The price includes takedown and folding.